Course objectives and programmatic details:
Storytelling for Learning
Stories shape our realities and define our identities and our lives. We all are collections of stories. Those who master the art and craft of storytelling have a great advantage in communication, and are more effective in their work, craft and probably everyday life.
In this course we will explore different aspects of storytelling, from the traditional – oral – ones, to more contemporary and technology based such as cinema, comics and videogames. We will explore the development of myth, the "stories that always are, but never happened" (Sallustius), how deeply rooted they are in the collective unconscious (Jung), and what are the links with popular formats like fairy tales or contemporary comics or hit movies.
We will cover topics like story structures, what makes the "bones" of a successful story, and how to engage our audiences regardless of the medium used. The course will encourage participants to tap into their potential as narrators and story creators, to gain the necessary skills and tools to be more effective communicators, and to become more aware of the immense power stories have in education, personal and professional life.
Key competences acquired by participants
Here are the main objectives of the training:
to learn about principles and models of storytelling
to experience different story formats, from oral narration to written stories, to cinema, comics and videogames – comparing their characteristics, their intended target groups and their main aspects
to get experience in story creation, writing and drafting in a personal and group process
to gain experience in public speaking and the effective use of voice, body and other environmental factors
to reflect upon the deep impact of storytelling, its possible applications on fields such as learning, personal development, entertainment and therapy/healing
When is the next Course and how do I apply?
Teachers, educators, youth workers, trainers, coaches, therapists, HR managers: any professional who works with other people as a teacher, guide, mentor, leader or counsellor.
25 September – 1 October.
The social programme activities are included within your course fees!
A few words about course co-ordinator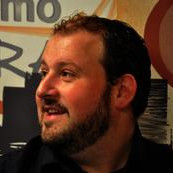 Carmine Rodi Falanga
Carmine Rodi Falanga, born 1977 in Italy, currently living in Prague, Czech Republic.
He holds a master degree in Business Administration, has a background as a journalist, blogger, storyteller and stand-up comedian. He has been active since 2002 in international youth work and education, designing and delivering training based on non formal education and experiential learning. Since 2011 he is fully freelance.
He is designing and delivering personal development courses, team building events, workshops and longer courses on subjects like public speaking, storytelling (theory and practice), game design.
He is a great lover of storytelling, in whichever form it happens, and his current areas of interest are myth, nature and ceremonies in connections with personal development; storytelling as learning, healing and development tool; game based learning and gamification. His clients include the corporate sector, NGOs, public and National agencies, and several private actors in the fields of education, youth and social work, environment, business.